Ysgol Y Deri is a school that prides itself on catering for a wide and diverse range of differently abled pupils. The school environment is positive, warm and welcoming, with a fantastic range of facilities and a staff team with a 'can do' attitude.
Staff at Ysgol Y Deri work with every child as an individual ensuring that their educational and therapeutic needs are met so that they can flourish both within the school and beyond.
The school vision is simple: "Potential, Opportunity, Achievement"
---
Challenge
The therapy team working within the school work within the Cardiff and Vale University Health Board, part of NHS Wales. The 4-strong physiotherapy team has extensive experience in working with a diverse range of pupils with varying physical needs. The team at Ysgol Y Deri work alongside the class teams to plan and deliver programmes to promote each pupils' physical potential, through methods including hands-on therapy, bespoke therapy programmes, hydrotherapy, rebound therapy, orthotics, mobility and postural management equipment provision. Therapy is pupil-centred, with input being based on the needs and goals of the individual pupil.
Solution
Ysgol Y Deri was the first school in Wales to introduce the Innowalk Pro to their therapy toolbox in 2021. Innowalk Pro is a robotic rehabilitation device offering supported dynamic standing for pupils with complex physical disability. The school initially trialled the equipment for 6 weeks using both the small and large sizes, with pupils across the whole school. The children included in the trial period were all wheelchair users with limited independent movement. The trial was highly successful and Innowalk Pro has now become an integrated part of the school physiotherapy service, offering pupils with more profound and complex needs the opportunity to access physical activity safely along with all the incredible physiological and mental health benefits that come with it.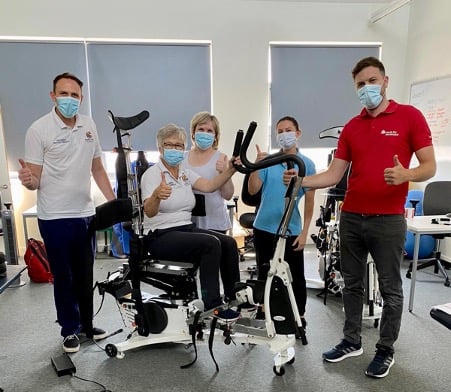 Feature Image: Ysgol Y Deri©.
Result
The Ysgol Y Deri team are pleased to report that Innowalk Pro is a safe and effective device to use in the school setting, and it can provide pupils with more complex needs access to physical activity. The therapy team discovered improved outcomes in the pupils' range of movement, muscle tone, mood and alertness and motivation to attend physiotherapy! They also found increased success with floor-based rehab and bench sitting immediately following an Innowalk session, and found that pupils were easier to move and reposition after their time in the Innowalk.
Families of the pupils at Ysgol Y Deri also have found that the benefits of Innowalk Pro sessions continue at home, reporting improvements in mood, alertness, sleep, bowel movements and general wellbeing.