INNOWALK PRO
Improve rehabilitation with the Innowalk Pro, providing full-body robotic therapy in standing with weight-bearing.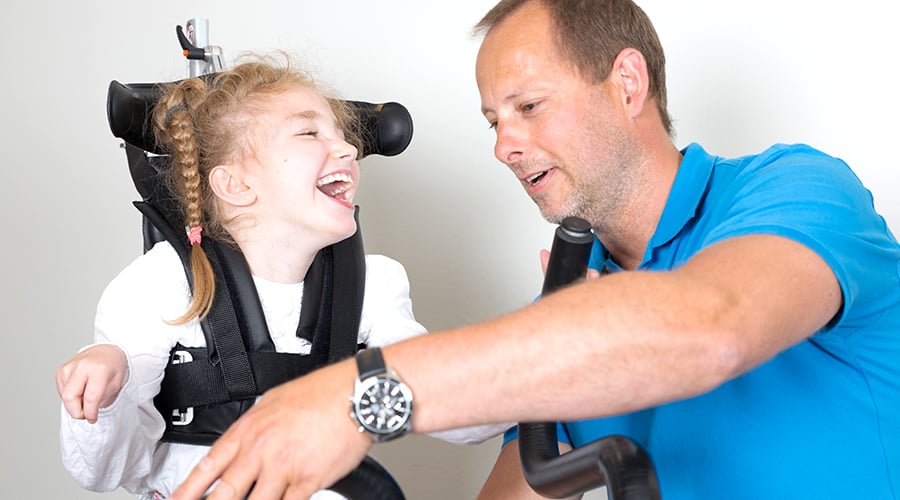 Get the most out of a patient's therapy time

Save time and resources

Save space

Ensure safe handling

Get motivated patients and employees
Who is the Innowalk Pro intended for?
The Innowalk Pro has been proven to be an effective end-effector device used in rehabilitation centres and therapy clinics.

The patient groups are children, adolescents and adults with physical disabilities caused by inherent diseases and acquired injuries.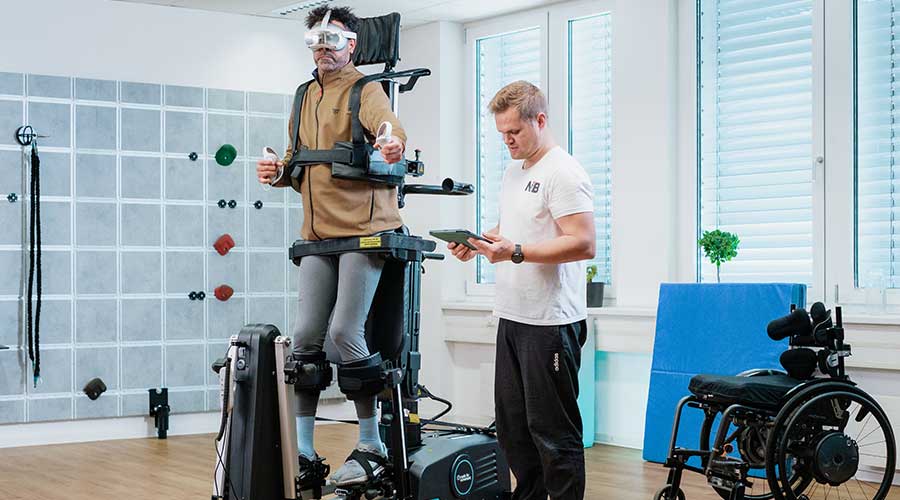 See how the Innowalk Pro works!
The Innowalk Pro is an extremely compact robotic rehabilitation trainer offering many features for both the patients and therapists.

Rehabilitation centres and therapy clinics deliver services addressing the needs of a wide tange of patients. Intensity of training is critical for success. For people with moderate to severe disabilities it is a challenge to meet these demands without affordable and sufficient equipment. In addition, they often experience lack of time resources.

The Innowalk Pro robotic rehabilitation trainer offers:

Sit to stand - Flexible positioning allowing for variations from sitting to standing. This can be used to compensate contractures or other medical considarations. It also enables the patient to take a rest in sitting position without the hassle of getting out of the device. The flexibility ensures that patients make the most out of their training session, regardless of physical capacity.

Easy adjustment system - The Innowalk Pro is quick, intuitive and easy to set up and use, which means less time spent adjusting the device to new patients. This way, the Innowalk Pro allows therapists to treat more patients per day.

Small footprint - The device has a small footprint and fits well into even a small therapy room. In addition, the Innowalk Pro can easily be transported by one person from room to room, giving patents the opportunity to be treated in privacy.

Motorised and enclosed support system - The Innowalk Pro is an innovative assistive technology enabling one therapist to mobilise patients with complex needs. The handling is safe and requires less work load on the therapist.

Monitoring feedback system - A 30 minutes session is around 2000 steps (65 RPM), and a performance feedback system is measuring speed, time and distance. In addition, offering innovative therapeutic technology makes your practice attractive for both patients and emoplyees.

Size range

Medium: User height: 120-165cm | User weight: max 65 kg

Large: User height: 150-200cm | User weight: max 110 kg

Stimulate arm and hand function
Increased training effect

For playing and activities
Social interaction with others
Support of hands and forearms for better stability
Increases the feeling of security

Use extra sole to compensate for different leg lengths.

Provides extra support for the head

Use manuals

We are more than happy to send you a user manual on request. Contact us here and we will send you what you need.
We understand that you might have many questions
To make it easier for you, we have gathered the most frequently asked questions about Innowalk.