HIBBOT

Reach full walking potential faster with the Hibbot, a game changing gait trainer replicating a physiotherapist's hands, in both a clinical and home environment.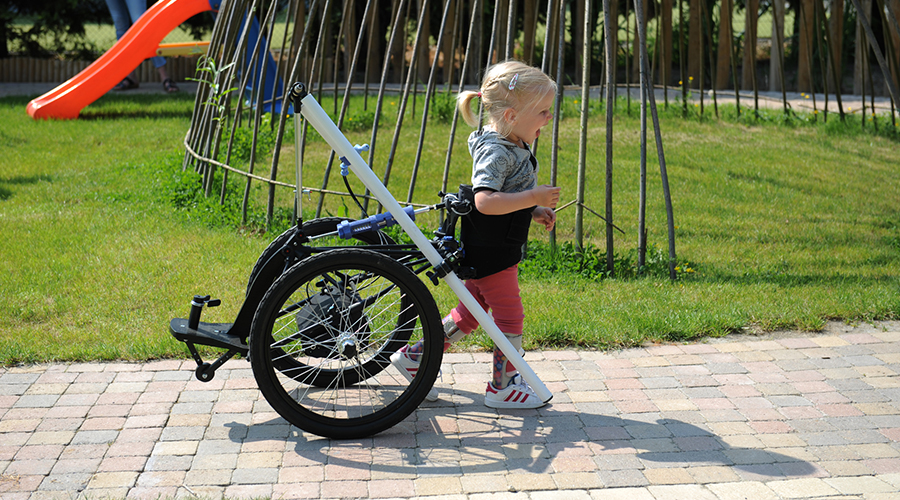 Provides high intensity gait training

Effective strengthening of extensor muscles and balance

Facilitates correct alignment during walking

Enables participation in everyday life

Hands-free social interaction
Who is the Hibbot intended for?
Children with potential to learn to walk, either independently or using a handhold walking aid. It can be children with cerebral palsy GMFCS level II-III or other neurological disorders with functional level corresponding to this GMFCS level. The children should have no structural deformities and show signs of motivation to stand and walk.
See how the Hibbot works!
Children with neurological conditions and different syndromes can experience delays in their ability to stand and walk. The Hibbot is a dynamic walking aid enabling early mobilisation with high intensity gait training in an upright, weight-bearing position.

The Hibbot gait trainer offers:

Just enough support - Unlike any conventional walkers, the Hibbot stabilizes pelvic and trunk instability with just enough support for the individual child.

Built-in state-of-the-art technology - Replicating the hand movements of a physiotherapist usually used when supporting a child while standing and walking.

One unit with flexible growth system - The Hibbot grows with the child. Flexible accessories such as the brace system and wheels in different sizes.

Size range

User height: 60-125 cm | User weight: max 30 kg

4-sizes braces

XTRA SMALL,SMALL, MEDIUM, LARGE

XS: 38 - 43 cm
S: 43 - 48 cm
M: 48 - 54 cm
L: 54 - 61 cm

16" - 16 x 1,75
20" - 20 x 1,75
24" - 24 x 1,75
29" - 29 x 1,75
We understand that you might have many questions
To make it easier for you, we have gathered the most frequently asked questions about the Hibbot.