Kids Physio London
Kids Physio London is a private paediatric physiotherapy clinic, predominantly treating patients with neurological conditions. Donna Nicol is the director of the clinic and is a highly qualified physiotherapist with 22 years of clinical experience in the care of babies, children, and teenagers.

The clinic endeavours to provide evidence-based treatment to ensure the children reach their maximum potential. Alongside Donna, is an experienced team of physiotherapists as well as a private occupational therapy team that complement the service the clinic offers.
Challenge
The clinic has extensive experience in treating a diverse range of disability. Providing a large scope of therapeutic options, from floor work, manual therapy, hydrotherapy and specialist equipment. This allows the team to tailor therapy to the needs and goals of the individual and their family.
Solution
The Innowalk Pro, a robotic rehabilitation device offering supported dynamic standing has become an integrated part of the clinics therapy tools.
Offering patients with more profound and complex needs the opportunity to access physical activity safely along with all the incredible physiological and mental health benefits that come with it.

The clinic provides families with an assessment and the opportunity to trial or have a block of therapy with the Innowalk Pro. This in many cases can facilitate the decision process and suitability for patients making their own Individual Innowalk purchase for home use.

Result
The Innowalk Pro is a safe and comfortable device to use and can provide patients with more complex needs access to physical activity. Donna and the team when appropriate choose to use the Innowalk in conjunction with their therapy session. Applying a 50/50 format because it can facilitate and improve the effectiveness of each sessions. The Innowalk has the ability to be used to help warm up and prepare the body for therapy.
Patients with dystonic or hypertonic patterns greatly benefit from Innowalk training. Their tone is significantly reduced and this can have an affect on their ability to transfer, how they are positioned and their 24 hour postural care within their wheelchair.
Other outcomes identified from the use of the Innowalk and increased physical activity is the huge impact on quality of life and wellbeing, such as improved sleep patterns, gastrointestinal function and mood.
Feature Image: Kids Physio London ©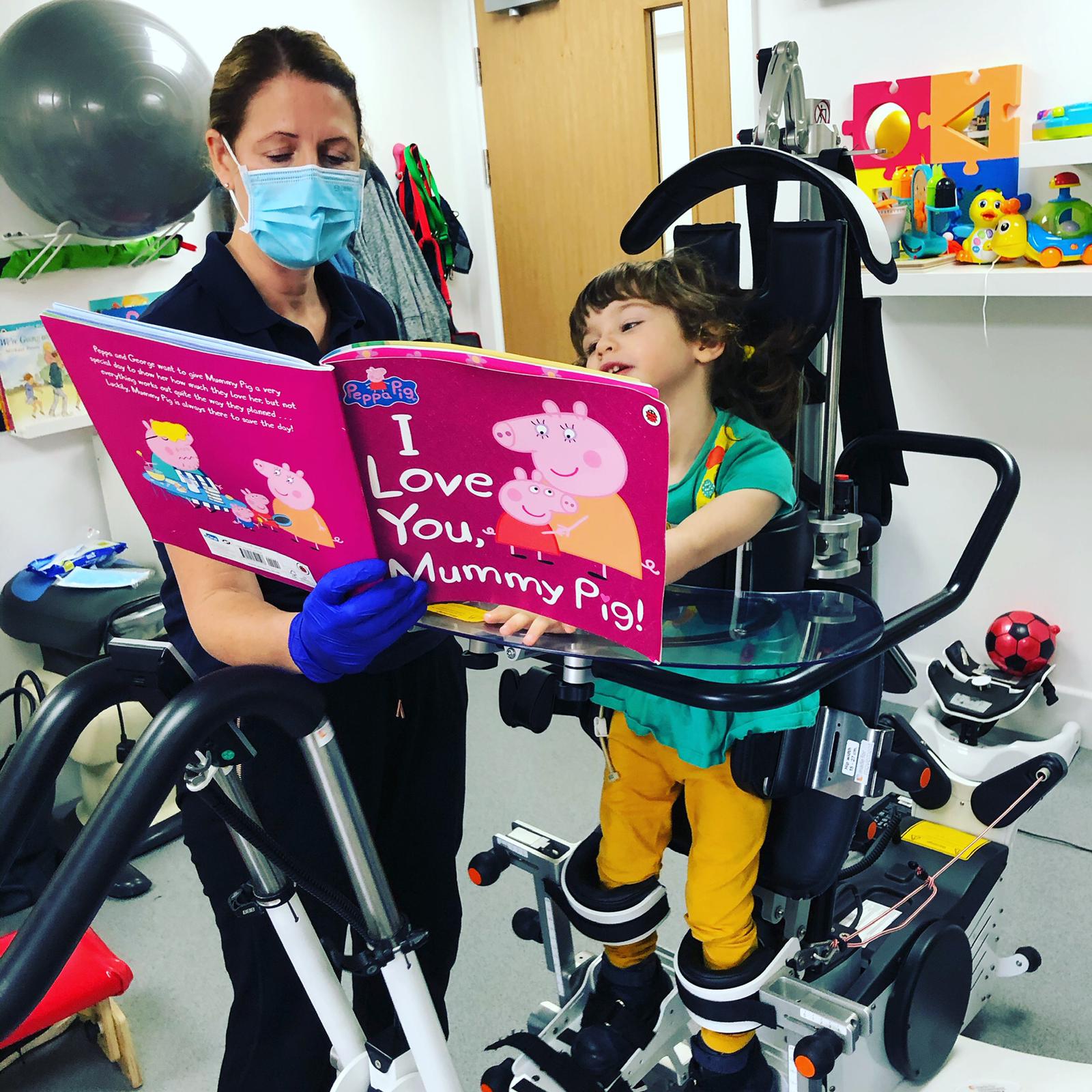 About Kids Physio London
Kids Physio London was established in 2011 by Donna Nicol. The clinic is a private paediatric physiotherapy clinic offering a big variety of evidence-based treatment to babies, children, and teenagers.

Number of employees: In addition to Donna Nicol there are 3 full time employed physiotherapists and several associates working for KPL.

Location: 2 Sheredan Road, Highams Park, E4 9RW, Netherhouse Therapy Centre, Netherhouse Farm, Sewardstone Road, Waltham Abbey, London, E4 7RJ.
Specialist expertise:
A large variety of neurological conditions, metabolic disorders, developmental delay, muscular atrophy (SMA and DMD) and unknown chromosomal disorders.