NF-WALKER
Enable participation and interaction with the NF-Walker, a gait trainer developing
a child's potential for independent movement.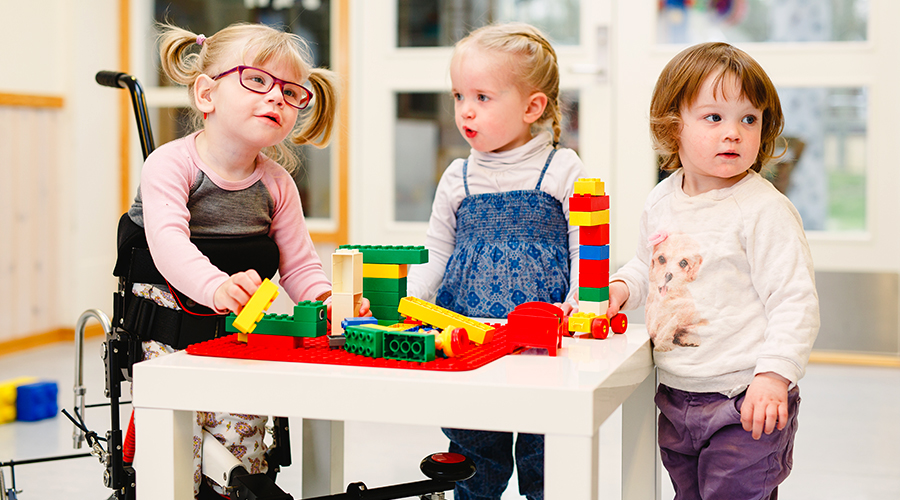 Hands-free social interaction

Participation in everyday activities

Corrected positioning and alignment

Weight-bearing through feet

Customised to meet individual needs
Who is the NF-Walker Intended for?
NF-Walker is designed specifically for children and young people with limited or no ability to stand and walk independently (non-ambulatory).
It works by safely supporting the user in an upright standing position. In addition, it stimulates independent walking and participation in daily activities.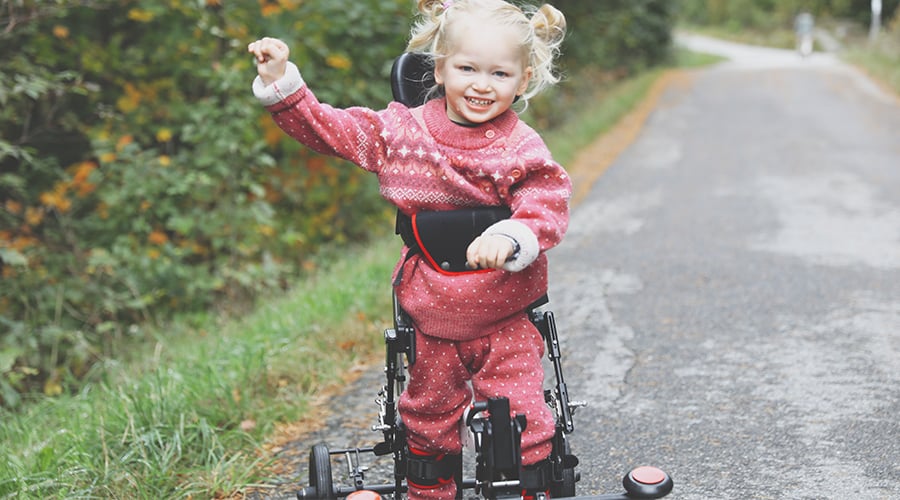 See how the NF-Walker works!
The NF-Walker is a gait trainer enabling children, even with very low motor function, to stand and walk independently, while keeping hands free. This initiates better social interaction and participation in everyday activities. In addition, through more mobility the level of physical activity is increased and time spent being sedentary reduced, which has shown to have positive health effects.

The NF-Walker gait trainer offers:

Support and bracing system - The unique support and brace system gives the child exceptional support and correction of both the lower and upper body. This secures sufficient alignment stimulating even children with severe disability to walk.

Weight-bearing - The brace system provides weight-bearing on the feet.

Hands free - Walking while hands are free allows for inclusion and engagement in activities with family and friends.

Size range

XS: 70 - 110 cm* and 30 kg

S: 100 - 140 cm** – 40 kg

Adjustable from 0 to 8 degrees on each side
Abduction position prevents hipluxation
Gives good, stable positioning
Reduces spasticity

Adjust for externally rotated foot position

By fixed positions or

By free rotation within 10 degrees

Adjust to stimulate knee extension or

Adjust to stimulate knee flexion

Makes it easier to help the user.

Adjustable height.

For children who cannot walk independently

Guides the child in a walking pattern

All types of head support, both standard and custom made, can be adapted to the NF-Walker.

Gentle transfer of the user

Less need for lifting assistance from helpers

Simplifies transfer of the user on uneven surface

Helps the assistant to gently transfer the user

Fits all kinds of lifting systems

Prevents injury on helpers because of heavy loads

Easy to use

Prevent overstretch of knee joint

Simplifies transfer in and out of the
NF-Walker

Easy to use wherever you are

Allows for natural hand position

Stabilizes the upper body

Increases the feeling of security

Increases independence and feeling of freedom

Stimulates hand and arm function

Stimulates cognitive function

Allows for better social interaction with other children

Increases stability of upper body

Fixed hand positioning for better stability

Increases the feeling of security

For games and toys

Allows for social interaction with other kids

Supports hands/forearm for better stability

Increases the feeling of security

Provides extra padding for the chest

Provides extra padding for the chest

Measurement form

Here you find the NF-Walker measurement form.

Use manuals

We are more than happy to send you a user manual on request. Contact us here and we will send you what you need.
We understand that you might have many questions
To make it easier for you, we have gathered the most frequently asked questions about the NF-Walker.